Fire Marshal Training Discounted Course Bundles
We offer online fire marshal training course discounts, which are suitable for many working environments are an ideal training platform that can be completed at a time that if convenient to you.
Our courses are all conducted using video based instruction from within your own secure training area and our fire training training courses are RoSPA approved & also CPD certified. Our workplace risk assessment programme is IIRSM certified.
Discounted Online Fire Marshal Training Course Bundle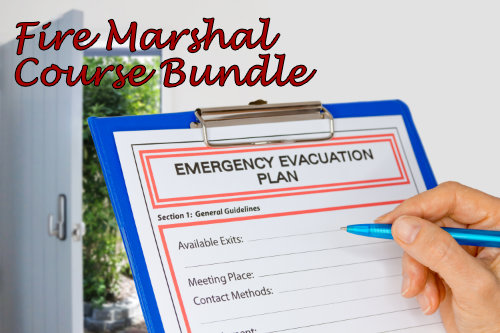 This online fire marshal course bundle is ideal for many working environments and offers 3 certified online training courses.
When these courses are purchased together there is a saving of £15.05 from our regular course training fee. This training bundle includes the following courses:
Fire marshal training
Fire extinguisher course
Workplace risk assessment awareness
Our online fire marshal training programmes are an ideal learning platform for may working environments including factory & warehouse workers, office staff, doctors, dental & hotel receptionists, childminders & school teachers, or anyone who would like to gain workplace fire marshal training certification.
You can register and start your discounted fire marshal training by selecting the image above, which will take you to the course bundle registration page.
If you would like to see the additional discounted courses we have available then please follow this discounted courses available link, or you can contact us for any additional information you may require.