Online Fire Marshal Training For Care Homes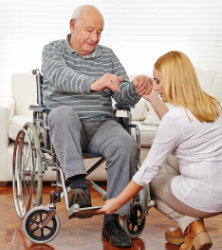 We offer this online fire marshal training care homes course, which is RoSPA approved and CPD Certified and is aimed at anyone who requires a valid and up to date fire marshal training certificate for residential care homes and the social service environment.
This fire marshal course online training programme is conducted using a video based learning system, from within your own secure training area and with instructor led presentations. Once you have completed the simple registration process you will be able to start your residential fire training at once and get fire marshal certified.
Our course covers the latest fire safety regulations and also the roles and duties of employees and their responsibilities to the residents on fire safety. Each residential fire marshal training video can be rewound, or paused so that you can gain a better understanding of the training course content.
Our e-learning fire marshal training for care homes course is designed to meet and help you comply with the regulatory reform (Fire Safety) order 2005 and additional training content is tailored specifically for employees that work within social welfare.
Once you have registered for your programme this course is conducted through your own secure training area using free fire marshal training videos, which can be paused or rewound as you progress through the course.